How

do we work?
From the Inside Out
We like to get inside the brands and companies we work for so that we can really understand what makes them different and what they are trying to achieve. We'll work with you on ideas and discuss solutions rather than imposing outcomes and our approach is completely flexible, determined entirely by your needs.
In Control
We have worked with some brands for over 10 years which means we have become their brand guardians and know the design guidelines often better than they do! We understand the pressures of marketing and are used to meeting tight deadlines without fuss so that you know your job is in safe hands.
Individual Service
When you work with Initial Design you're working with individuals, and you'll deal directly with the person who's working on your job. Fewer things are lost in translation and every brief is fully understood. From planning to design to delivery you'll receive a service that's personal, not packaged.
In

terested?

If you would like an agency that combines great design with dependable, personal service, then get in touch, contact alison@initialdesign.co.uk or call
01773 811155
About

Us
Initial Design is led by Alison Rayner and Viv Wilkins
We create graphic design and visual communication that really gets you noticed.

Experts in understanding brands, we'll turn your ideas into tangible solutions that really work for you. We're not about 'blue-sky thinking'; we're far too down to earth for that. With our heads out of the clouds and our feet firmly on the ground we bring practical advice and real-world experience to your promotional material, making sure it's professional and hard-working – just like we are.
We have a group of trusted associates that we rely on for their specialist skills including SEO, photography, videography, print, mailing, copywriting, strategic marketing and PR.
Under our co-ordination and guidance we can deliver complete campaigns to our clients saving them time and often money.
At Initial Design we listen more. We try harder. And we go that bit further.
That's what make us different.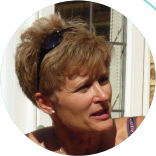 Alison has over 25 years agency experience in account management and ensures your project will be effective and arrive when and where you need it, all at a reasonable price. She has the knack of getting to the heart of a brief and making sure the end result will do the job.
Alison's email is alison@initialdesign.co.uk, tel 01773 811155
mobile: 07714 751341
Viv is the creative director and ensures the high design standards are maintained, and that the work flows smoothly through the studio. She has many years expertise in both illustration and design.
vivwilkins@initialdesign.co.uk,
tel 01773 811155
Viv has many interests including all forms of art, nature, architecture, travel & walking and loves to combine these in her very successful contemporary stained glass art venture.